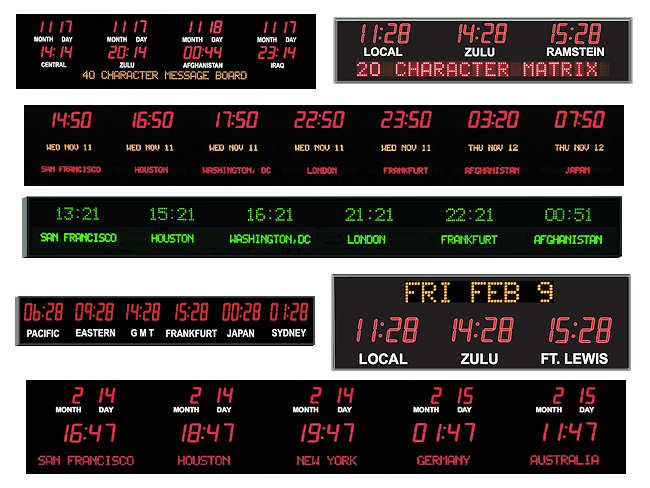 We offer three types of Time Zone Digital Wall Clock:
Time Zone Clocks are custom made and non-returnable, please request and review specifications before ordering.
Bar Time Zone Clocks
Displayed across a horizontal bar, you can choose from 2 and up to 8 time zones. Time display heights range from 1.8" up to 4" allowing for readability at any distance. Standard red LED is available, with green and blue upon special request. Time zone locations can appear with vinyl or LED lettering depending upon your needs and budget.
Dot Matrix Clocks
Using dot matrix technology, this clock has simple yet powerful versatility. Displays are made up of many small LED lights for specific time and location settings. Fully programmable, dot matrix clocks allow you to stack location and time zones that best fit your business. LED lettering is available in red, green, yellow and blue and the width of each display can range from .7" to 2".
Custom Time Zone Clocks
Need a custom design? Entech can customize most digital wall clocks or LED signs to accommodate any type of military application, business, school, or hospital. Pick and choose from our wide selection of digit and LED displays. Custom clocks can display time, location, electronic LED letters, vinyl letters, month/date, julian date, as well as count up and countdown tracking.
All our Time Zone Clocks offer the following features:
12- or 24-hour display
Non-glare lens for readability
Super-bright LED technology
Anodized Aluminum Frame for durability
Wireless Remote Control for easy programming
10-year Lithium Battery that ensure accuracy even after a power failure
Guaranteed 1-second a Year Accuracy (TCXO)
Automatic International Daylight Savings Correction available
Display Any Combination of time zones anywhere in the world
Custom vinyl and LED lettering to your specifications
2 Year Standard Warranty
Custom clocks and timers are available. We have various sizes and options to choose from.

Typical Time Zone Clcks with Vinyl Lettering
(PDF Format)
Typical Time Zone Clocks with Electronic Zones and/or Dates
(PDF Format)
Custom Time Zone Clocks & Counters
(PDF Format)